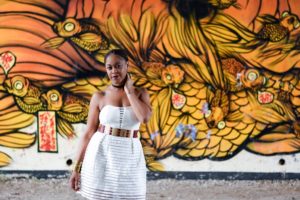 What exactly is StarLyte's Boo'tique? When I tell people that my Blog is called StarLyte's Boo'tique, they automatically think of a clothing or specialty shop where you can find unique, one of a kind pieces. I can see how this assumption could be made due to my love for fashion, from everyday styles to costuming. However My Boo'tique is a little different.
I started The Boo'tique a few years ago as a way of inviting singles to mix & mingle with other singles in the form of Speed Dating. I wanted my clientele to be individuals who were unique and one of kind that struggled with the Dating scene in Atlanta, and wanted to meet individuals similar to themselves, but had not had the opportunity. For me, the word "Boo" is a term of endearment and centers around someone special in your life. I wanted to give my business a name that was catchy and creative, which embodied the experience of a "Boutique" but with humans as opposed to apparel, hence "Boo'tique" was created. I envisioned the Cream of the Crop of ATL's single scene, specifically from the Black Community, participating in a fun and trendy night out, at a sexy venue, participating in fun games, to break the ice, in meeting "The One". Well let me tell you, it was quite a challenge for me, getting my people, yeah yall, to Speed Date! I was a little disappointed, but I quickly realized that this may not be the way to go, so I decided to revamp my vision.
"StarLyte" was a name given to me by one of my Artsy friends some years ago. She always said that although there was so much darkness around me at the time, I still embodied Light, so I stuck with it. Everyone I come in contact with is "My Boo", not in the way of Romance, but in the way of Love and Lyte. With a background in Art, Education & Counseling, I decided to create a space where My Boo's or Boo'ski's can learn and grow. I have been asked for years to start a blog, and I now have to courage to share my highs, lows, knowledge and experiences. StarLyte's Boo'tique is a place where you can find information, articles, tips and my own journey on Relationships, Fitness, Dating, Travel, Fashion, Art, Food, Fun and so much more.. Welcome to StarLyte's Boo'tique.
Photo by Chris Montgomery